In Ads Manager, you can bulk import ads by uploading an Excel spreadsheet with campaign, ad set, and ad information. You can either upload an Excel spreadsheet with your data or you can export your ad data as a spreadsheet, manage your ad data on Excel and then upload it on the updated Ads Manager. You have the option to bulk import images too.
Importing ad and campaign information is a great way to speed up campaign management and bulk upload data. This feature is ideal for advertisers who manage many objects and need to run a large number of ads, as well as advertisers who prefer to edit their ads in Excel, rather than on the platform.
You can also export ads, learn more about exporting ads.
What is supported:
~2MB file limit

List of available columns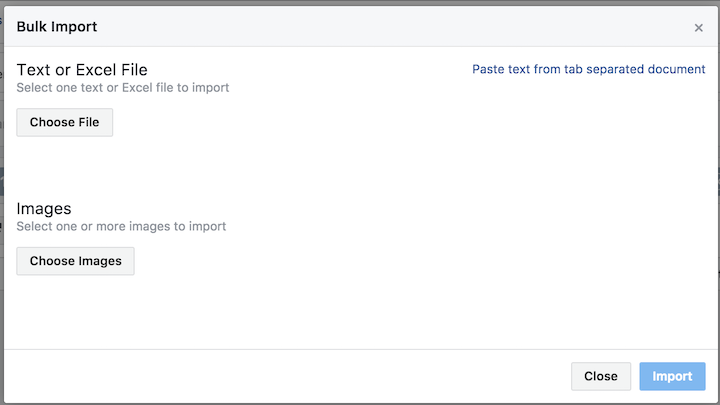 For example, if you would like to test multiple images with the same ad copy you can choose to import ads using an Excel template. The template is an Excel spreadsheet that lists the available columns, making it easy to input your data and upload it to Ads Manager. It can be time consuming to publish 100 ads, each with their own individual media file. Importing ads allows you to fill the spreadsheet with the content you want to publish instead of creating and publishing each ad individually. When your spreadsheet is ready you can upload it and publish all ads at once.